This is something many of us may know, but to those that do not, Automator can be a Huge Time Saver and it is already included in our Macs!
For a while now I have been packaging my templates before I deliver them to customers and clients.  However, Apple is adding more steps to the workflow.
The steps are to create folders for my template delivery packages, create tutorial folders, marketing items folders, and resource folders, etc.
Next, I create an Installable Package, Build a Package Bundle, Notarize the Package, Add Notarization Info, Staple Notarization, Verify Notification, add the Package to a DMG and then deliver to the client or upload to the webserver.
Fortunately, my good friend Joe Workman had recommended I Automate the entire process with Automator.  Automator is a tool I had used many years ago, but I had forgotten about it.  So I got busy to get reacquainted with it and I am thrilled that I had.
Now, what used to take me 30-60 minutes ( depending on human error, etc ) now it only takes me less than a minute with one Automation workflow to accomplish all of the above steps.
My new workflow is a little complex as I use Apple Script, Shell Script, and some Perl scripting and it took me more than a few days to get it to work, but I believe it was well worth the time because it freed up time to create more templates in the future.
Many of us may not need advanced scripting workflow like mine, but even simple automation can help save us time.  Even 1-5 minutes of a repetitive task can add up to 20-100 minutes a month, or 240-1,200 minutes a year!  That is a lot of time. 🙂
I highly recommend you take a look at Automator and see what an amazing and powerful tool it can be.  If you currently use it, please let me know what cool scripts you have created.
Also, below I have added some links to what had helped me learn more about what is possible with Automator.
Automator's Vimeo Page full of great videos.
Automator's official page by Apple
https://scriptingosx.com/packaging-for-apple-administrators/
I also got huge help from the Packaging Channels & Scripting channels at the Slack MacAdmins Group.  Thank you, Armin Briegel, Tom Bridge, Eric Hemmeter and everyone else that helped me understand Scripting and Packaging more.
Below is a screenshot of my new workflow in Automator.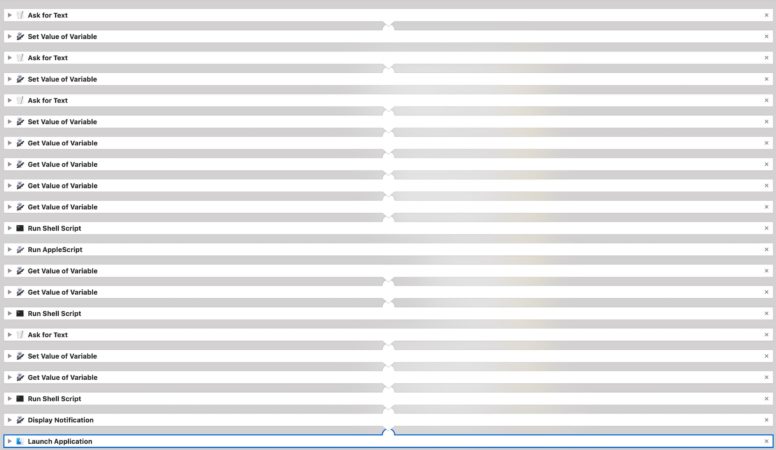 I hope this helps.
Please let me know your feedback, suggestions, and/or comments.
Thank you for your valuable time and have an amazing day!